H20 = Productivity
Healthy employees are happy and productive. Encourage water consumption in the workplace and promote healthy alternatives to coffee or soda. Kohley's offers the Clover® bottled water cooler as the perfect water solution for any office or commercial environment.
Clover® Bottled Water Coolers
Clover® Bottled Water Coolers offer the latest technology in providing fresh, healthy water for your home or office. With a cold water reservoir, hot water tank and a high density polyethylene cabinet, your Clover® water cooler is built to be effective and leak free. Kohley's does not charge for the optional cup dispenser when renting a Clover® bottle water cooler.
Features
Leak guard included
Stainless steel hot and cold tanks
Two-year blanket warranty (five years on compressor)
Hot (nearly 185°F ) and cold (35.6°- 53.6°F) thermostat
Internal metal frame
Air filter
Optional cup dispenser with choice of 5 oz. flat or 4 1/4 oz. cone cups
One-piece ABS drip tray is easily removed for cleaning
Double float valve – Secondary safety mechanism activates in case of primary valve failure
5-Gallon Water Bottles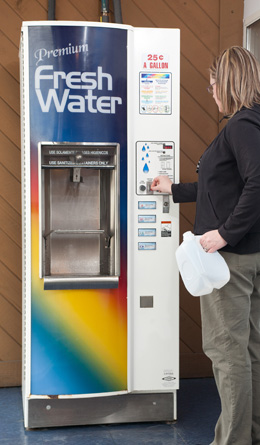 Kohley's offers 5-gallon water bottles for pick up or delivery. Choose from Distilled or Purified water. At the Muskegon location, a purified water vending machine is available in the lobby for $.25 a gallon. Customers can bring their own container or purchase an empty container for a $7 deposit. Prices are subject to change.
Choose from:
Distilled 5-Gallon Water
Pick Up – $5.50 per bottle
Delivery – $6.75 per bottle
Purified 5-Gallon Water*
Pick Up – $4.50 per bottle
Delivery – $5.75 per bottle
Receive $1 off per bottle when 6 or more 5-gallon water bottles are purchased and delivered to your home/office.
* BPA free bottles available upon request.
Online Order Form
Bottle Buddy®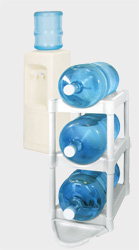 The Bottle Buddy® is a bottled water storage system that holds up to 3-5 gallon water bottles. Multiple sets can be combined for additional water bottle storage.
Product Features
Assembly does not require the use of any tools or hardware
Made of all plastic to eliminate chipping, rust, peeling or corrosion
1 kit includes 3 trays, 8 legs, 4 top caps and a floor protection kit
Floor protection kit shields flooring from bottled water leaks and can be removed for quick cleaning
Floor protection dish available separately for an additional cost.