Kohley's Superior Propane offers tanks of all sizes to fit your needs – domestic and underground tanks, 20 lb and 30 lb tanks and forklift cylinders. We offer affordable pricing and 24/7 emergency service. Kohley's can also fill your motor home propane tank!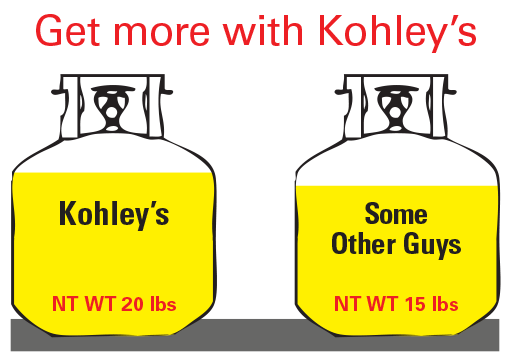 Propane Tank Installations
All residential propane tank installations include the following:
Installation using a 4-wheel drive crane truck to help with accurate placement
Installation of a buried gas line that will run from your tank to your home – no charge for gas lines up to 25 feet
Supply and hook-up of two regulators – one at the tank and the side of your home
A complete system safety check – includes Kohley's checking your appliances, testing and adjusting the regulators, and testing the gas lines for leaks
Propane Products
Delivery and Payment Options
We will work with you and your budget. Please call for pricing details. If you would like to review our Propane Agreement, you can download it here.
View Agreement
Auto Refill – Remote Monitoring
All new customers have the option to participate in our automatic refill program. When your tank falls below 30%, our dispatchers will be notified and your delivery will be scheduled in a timely manner.
Remote monitors, placed directly on your propane tank, are required with the auto refill program. All customers switching to Auto Fill from Will Call must obtain a Remote Monitor. All Auto Fill programs will be transitioned to the Auto Refill – Remote Monitor program by the end of 2018.
Remote monitoring replaces the estimating system used by most propane providers. What used to be done by handwritten calculations and computers (estimating based on energy usage projections) is now automatically transmitted (actual) directly to Kohley's.
The auto refill program is $48 a year. No installation fee. You can rest easy knowing your home will stay safe and warm!
Will Call
With will call, you can order your propane when you need it. You will need to monitor your own supply and place your order when you tank gauge is at 20-30% in order to provide time for delivery (minimum of 3-5 business days). Order must be at least 200-gallons.
Budget Program
If you enroll by June 30th you can lock in (no lock-in fees or floating fees due to rising energy prices) your propane price from October 1st through May 1st. By locking in your price, Kohley's can calculate your estimated payments based on your projected usage and this year's price allowing you to make 12 monthly payments beginning in June. All budget payments will be due on the 20th of every month beginning in June. Existing customers must have a balance of $200 or less to qualify for Kohley's budget program.